Here I will give you tips for putting together a First Aid and Health Themed Gift Basket, and everything in it will be absolutely useful!
The Container:
You can go with a traditional bag or one of these containers, and that would be fine.  But if you want to really make your gift stand out, consider putting the items in a container that latches and/or locks so mom can keep dangerous medicines away from her curious baby.  For example, try this medicine safe from Smart Guard!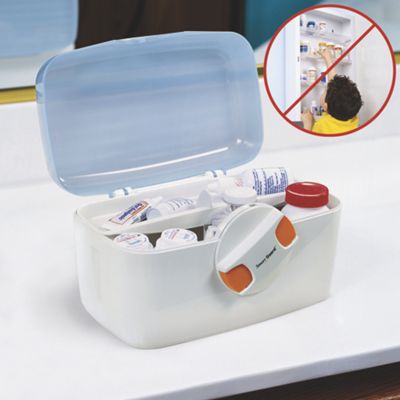 This is what I made for my friend's baby shower:
What to Include:
Mini first aid kit (for on-the-go)
Baby band aids
Neosporin
Baby safety nail clippers
Rubbing alcohol
Mom will need this to clean the umbilical cord!
Baby oil
Vaseline
Desitin
Cotton balls
Baby Q-Tips
Boogie wipes
Baby acetaminophen
This may be a tricky one because mom's feel strongly about the types of medicine they give their children.  Generally, pediatricians recommend acetaminophen as opposed to ibuprofen (Tylenol vs. Advil, respectively).  However, I used ibuprofen with my 2 month old son (because he met the weight limit for ibuprofen) and asked the pharmacist at the drug store of the proper dosage.  So, to be safe, you might want to ask the pharmacist at the store when picking this item up!
Soft hair brush
Hand sanitizer
Desitin
Hydrocortisone Cream
Gas Drops
Emergency Contact List
Look up the emergency contacts in the area mom lives in and create a handy list for her to post next to the home phone.  Make a second copy for her to put in the diaper bag in case there is an emergency while on-the-go.  You can even take the lists to a home office store, like Staples, and have them laminated for very cheap.
Things NOT to buy:
Nasal aspirator (they give Mom one in the hospital)
Dual rectal/oral thermometer (they give Mom one in the hospital)
For more information on the best (and worst) gifts for baby showers, check out my Baby Shower Gift Ideas page!
Have any of your own suggestions?  Share them in the comments!